Film, Television, & Production Events
Since 1990, Trade Audio has been providing walkie talkie equipment to the film and television industries. Our reputation is unrivaled, working around the clock to serve this community. The walkie talkies we provide ensure you get through studio walls and keep your crew connected. While the Motorola CP200 is the workhorse for this industry, the newer SL300 Mototrbo series are great alternatives.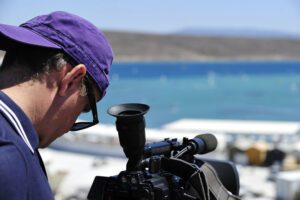 Hospitality 
Experienced in working with a variety of industries, from hotels to catering businesses, to event companies, we understand the need for flawless communication and timely execution.  The light and reliable Motorola SL300 series offers the ideal weight and power to execute seamless events with ease. And this sleeker model ensures your team of professionals is looking sharp on the job!  
Churches & Schools 
We have empowered churches and schools with our top-notch communication tools by bridging gaps and enhancing connections. From ensuring seamless coordination during school events to enabling flawless communication within congregation services, our journey of empowerment knows no bounds. With nearly three decades of expertise, we're not just a service – we're a partner in crafting exceptional experiences.
Public Safety
Providing efficient and secure communication to handle unauthorized activity and access full control is our top priority! With the most dependable theft protection and detection, Trade Audio's two-way radio equipment ensures security at all levels. The Motorola CP200 or SL300 series radios work well to handle any situation with utmost reliability.
Transportation & Logistics
We offer nationwide PTT service that can communicate and monitor your cargo wherever your driver is located. With our TLK100 LTE walkie talkies, you will be able to always track your fleet via GPS. Our staff will assist you with custom programming for your specific users. Instant communication will ensure your goods consistently arrive on time.
Retail & Distribution
Within retail and distribution, you need to keep your team consistently connected to move merchandise successfully. With our reliable walkie talkies, your team will stay in sync. No matter the size of your store, we offer the right solution for your needs.
Construction
In the construction industry, reliable and resilient equipment is essential. Trade Audio offers a range of radios that perform flawlessly under tough environmental conditions and the expertise to quickly service them. The Motorola XPR series of radios are tough and weatherproof, and the Cp200d can also work around most construction materials.